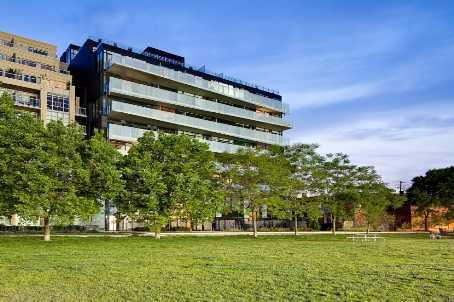 The Parc Lofts by the Lamb Developments Corporation, in collaboration with Niche Developments, as well as Harhay Developments, is a new loft house project located on 25 Stafford Street in Toronto.
The Parc Lofts was officially completed in 2011 and now consists of a total of 103 units that vary in size from 1,300 square feet in an upwards of 2,000 square feet. Available suites for sale start at $400,000.
The Parc Lofts rises up 10-storeys in the well-known and prestigious King Street West Neighbourhood, providing residents with a view over the family friendly community that encircles them. This loft house development is situated in Stanley Park, giving residents a green oasis to enjoy everyday of the week. In addition, residents will find even more green space just seconds outside their door such as the Music Garden, Coronation Park, Allan Lamport Stadium Park, BMO Field, Bathurst Quay, and Alexandra Park. Additionally, residents will also be a short stroll away from some of Toronto's finest hot spots such as Trinity Niagara, Liberty Village, Portugal Village, Trinity-Bellwoods, and the Fashion District.
Even more so, residents will have access to several public transit options, various major highways, and an abundance of bus routes making travel easy and hassle free. At the Parc lofts, residents will enjoy having oversized balconies and terraces that will provide them with a private place to relax and take in the views of the community that surrounds them. Even more so, these oversized balconies and terraces will be equipped with barbecue areas, allowing for residents to cookout with their family or entertain their friends.
Residents will love the historical buildings, foundation plantings, and the mature tree lined streets that engulf their new loft homes. Sales for the Parc Lofts have already began and are expected to sell quickly. For more information, please visit the presentation centre located on 25 Stafford Street in Toronto. The presentation centre is open Monday-Thursday from 12:00-6:00 p.m. and Saturday, Sunday, and Holidays from 12:00-5:00 p.m.