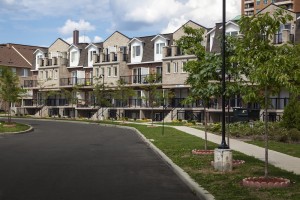 The Harmony Village On The Humber by Norstar Group of Companies is a new townhouse development located on the corner of Islington Avenue and Finch Avenue in Toronto.
The Harmony Village on The Humber is scheduled for completion in 2015 and upon its closing it will consist of a total of 375 units that will vary in size ranging from 680 square feet in an upwards of 2,032 square feet. Available units for sale start at $159,900. The Harmony Village on the Humber is located in the prestigious and sought after North York Neighbourhood, close to the downtown area and all of its luxurious amenities.
This exquisite new housing project is situated right on the banks of the Humber River, allowing for residents to be able to take a nice leisurely stroll, take a fun boat ride, or spend some time catching a big fish. Even more so, the Harmony on the Humber is encircled by many fabulous shopping centres, delicious bakeries, dazzling cafes, established public and private schools, area hospitals, several plush parks, and fine and casual dining options. Living at the Harmony Village on the Humber will guarantee that residents will not only have the best housing around, but will also have the best amenities available as well.
Residents will be situated directly across from a recreational centre where they can take a dive in the oversized swimming pool, go skating on the indoor skating rink, or play on the Bocce ball court. Even more so, resident will be able to utilize the recreational centre's wash room, the meeting room for business gatherings, or the daycare centre when they need someone reliable to watch their kids. In addition, the recreational centre will have a party room and a kitchen available at residents' disposal.
Sales for the Harmony Village on the Humber have already started. For more information, please visit the presentation centre located on the corner of Islington Avenue and Finch Avenue in Toronto. The presentation centre is open Monday-Thursday from 12:00-7:00 p.m. and Saturday and Sunday from 11:00 a.m.- 5:00 p.m.